Western & Classical Dressage Coaching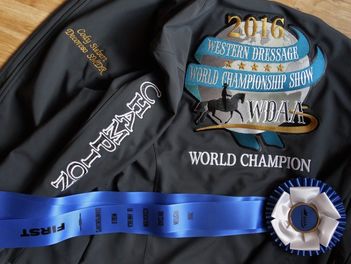 Cody is committed to helping all her students attain their goals. All riders, from beginners to upper level competitors receive personal, customized coaching to fit their needs. With a natural talent for teaching riding, training, and horse management, Cody encourages her students to reach their full potential capable, compassionate equestrians. She has successfully coached competitive riders and their horses to Championships & Horse of the Year Awards; improving performance and also worked with horses and riders requiring rehabilitation. Her clients appreciate her deep understanding of the technical aspects of this very athletic sport.

Cody offers training and instruction in dressage as well as behavioral training and basic education for young horses. Training is tailored to meet the individual horse and rider's needs. She is also a Schooling Show Judge and has Judged Special Olympic Horse Shows.

Every horse & rider can benefit from the balancing and strengthening exercises offered by Classical or Western Dressage! Cody brings her extensive personal experience with that discipline to her work with every horse she trains. She also enjoys working with all breeds of horses and works patiently with every horse she trains to build a lasting framework of trust and positive communication.

Cody's unique specialties include conditioning and proper equitation for the horse and rider as well as the care of older horses and identification of their special needs that help them perform longer in life.

SERVICES
Private Lessons
Onsite Show Event Coaching
Schooling Show Judging for All Breeds including Gated Horses: Classical & Western Dressage ; Breed Show Judging ; Special Olympic Show Judging

TRAINING LOCATIONS
Cody's private facility in Richmond, Texas - Dream Catcher Farms
Available for clinics, barn show judging at your location, Cody is a also a Para-Athlete and offers Judging for Para-Olympic Qualifying Shows.

​Cody has studied Classical Dressage at length with Masters such as Charles de Kunffy, Lurena Bell, Whit Watkins, Pam Grace, Manuel Trio; Clinics with Jane Savoie, Kim Walnes, & many more wonderfully accomplished equestrians. Cody also possess a Certificate of Completion WDAA Train the Trainers Clinic on Western Dressage.







---
| Cody Siebert | Richmond, Texas | 713.703.6100 | cjsiebert@msn.com |
NOTICE: WE DO NOT ACCEPT OR DO BUSINESS WITH CREDIT CARD OR SQUAREUP CHARGES FOR SERVICES