"We cannot and should not have any hesitation or doubt when
asking anything of our horse in the saddle or on the ground.
Any hesitation or doubt will confuse our horse, progressively making him
less interested in his work or his rider. Eventually, this would lead to a loss
of leadership, and the horse will not gain trust and peace of mind with his rider."
~ Charles de Kunffy, International FEI Trainer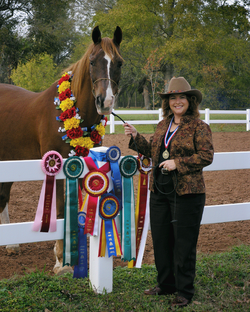 Greetings,

It's been said that in riding a horse, we borrow freedom. We also learn lessons in patience, compassion, courage, and leadership. Horses are powerful and have much to teach us, and in turn to show them how to become a safe intelligent citizen of our human world. For many years I've been coaching riders and their horses, I have seen some magnificent and rewarding transformations. Trainers reach higher levels and Amateur riders become outstanding equestrians, timid individuals find the courage to lead, and some even discover a new passion for living a fuller life.

I offer Coaching and Clinics in Classical & Western Dressage to All types of Riders & Breeds of Horses who simply desire to learn a higher level of training improving communication response to ques which leads to a safer more balanced ride and a sounder happier horse.

Join me as we work together to master your journey with your horse!.
Live Long & Ride strong,
Cody
p.s. (yes I am also a survivor of Breast Cancer "Twice" & also after surviving a near fatal accident caused by a drunk driver, learned to walk again, all with the help of my wonderful husband John & our horses, only joy and determination, no tears allowed!)

Cody has studied Classical Dressage at length with Masters such as Charles de Kunffy, Lurena Bell, Whit Watkins, Pam Grace, Manuel Trio; Clinics with Jane Savoie, Kim Walnes, & many more wonderfully accomplished equestrians. Cody also possess a Certificate of Completion WDAA TTT Train the Trainers Clinic in Western Dressage.
---
CONTACT: Cody Siebert * Richmond, Texas * 713.703.6100 * cjsiebert@msn.com
NOTICE: WE DO NOT ACCEPT OR DO BUSINESS WITH CREDIT CARDS OR SQUAREUP CHARGES FOR SERVICES